In Memory
Lois DelVallee (Wilder) - Class Of 1967 VIEW PROFILE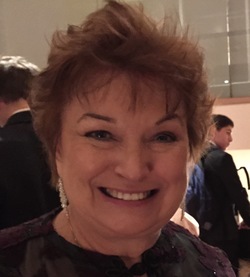 Lois Anne Eckenberger Del Vallee, born on May 19, 1949, left us on February 23, 2016 at the age of 66. The horrors of melanoma were too great for her body to fight anymore and she is at last at peace and out of pain.
Lois was born and raised in South Bend, Indiana, where she first began playing the oboe and showed remarkable talent. A graduate of Indiana University with a degree in music, she played principal oboe in the South Bend Symphony for twenty years.
After moving to Chicago and continuing as a professional oboist and secretary, Ralph Wilder was incredibly lucky to have her come into his life. They were married in December of 2001 and have had a wonderful life together making music, traveling, and enjoying each other's company and good friends.
Lois was very involved with the Association of Professional Orchestra Leaders (APOL) and handled all the ticketing and table placement for the annual Dinner Dance - and did it amazingly well.
Lois had been the English Horn player in the Evanston Symphony in recent years and enjoyed that experience so much. She loved teaching young oboe students and developed exceptional players.
She was also the principal oboist in the Northwest Concert Band which is directed by her husband, Ralph, and played for years with the Chicago Bar Association Orchestra
She loved to sew, was a consummate artist with her sewing machine and had acquired an enormous amount of fabric - she made many of her own garments - with exquisite detail. Her embroidery was magnificent - and Ralph was so lucky to have many, many wonderful shirts made just for him by the love of his life.
Lois leaves her loving husband, Ralph; her sisters Deborah (Stephen) Drendall, Mary Shell, and Sarah Del Vallee; her niece Anna (Steve) Saar; her nephew Philip Drendall; and a ton of friends from the Northwest Concert Band, the Evanston Symphony Orchestra, and various walks of life who were fortunate enough to come to know this bright, vibrant, kind, funny, witty, intelligent, musical person. All who knew her mourn her passing. She will be terribly missed.

Visitation Saturday, February 27, 2016 10:00 a.m. until time of Funeral Service 12:00 Noon at Donnellan Family Funeral Home 10045 Skokie Blvd. at Old Orchard Rd. Skokie.Interment is Private.
12/29/2018
Click here to see Lois' last Profile entry.