In Memory
Delores A Vermillion (Hodges) - Class Of 1950 VIEW PROFILE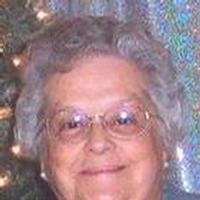 Covington, Ind. -- Delores A. Hodges, 78, of Covington, passed away at 5:47 p.m. CDT Thursday, July 21, 2011 at Carle Foundation Hospital in Urbana, Illinois.

She was born September 26, 1932 in Mishawaka, Indiana, the daughter of the late Harold and Loretta Lambert Vermillion. She married Cornelius "Lane" Hodges on June 19,1976 in South Bend, Indiana. He survives.

Other survivors include four daughters, six sons, twentyone grandchildren, twentythree great grandchildren, one sister and two brothers. Delores was preceded in death by one daughter and one son.

Delores formerly worked at The Group Home and Homeless Shelter at Maranatha Temple in South Bend. She was currently secretary for Hodges Vending. She was a lifetime member of the River Park United Methodist Church in South Bend. Delores was a current member of the Stringtown Church of God south of Covington. She was a 1950 graduate of John Adams High School. Her many memberships included the Perrysville T.O.P.S., Fountain County Home EC Club, O.E.S. and the Stringtown Church of God Golden Strings. Delores enjoyed church activities, singing, camping with her husband, traveling, board and card games, reading and watching game shows. Delores was a devoted wife, mother and grandmother.

Funeral services: 5 p.m. EDT Sunday, July 24, 2011 at DeVerter Funeral Home in Cayuga, Indiana; Officiating: Rev. Keith Klossner; Visitation: 2 to 5 p.m. EDT Sunday, July 24, 2011 at the funeral home. Graveside services and burial: 2 p.m. EDT Monday, July 25, 2011 at Chapel Hill Memorial Gardens and Funeral Home, 10776 McKinley Highway, Osceola, Indiana 46561. Contributions may be made to the Stringtown Church of God, 2390 South Stringtown Road, Covington, Indiana 47932 or to the Susan G. Komen for the Cure, Central Indiana Affiliate, 3500 DePauw Blvd., Suite 2070, Indianapolis, Indiana 46268.
08/11-2019 JFC
Click here to see Delores A's last Profile entry.