In Memory
Mary Jane Bauer VIEW PROFILE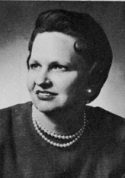 Mary J. Bauer
Jan. 9, 1918 - July 9, 2009
BLUFFTON, IN - Mary Jane Bauer, 91, passed away peacefully Thursday, July 9, 2009 at River Terrace Estates in Bluffton. Born on January 9, 1918 in Lafayette, Indiana to Andrew Bauer and Barbara Babette Leitner Bauer, she had ten sisters and one brother who predeceased her, Anna Bauer, Lafayette IN, Minnie (Carl) Pfeil, Crown Point, IN, Helen Marie (Herbert) Walberg, Chicago, Elsie (Joseph, or "Joe The Butch") Haindl, Fairmount IN, John (Mildred Hunt) Bauer, Lafayette IN, Lillian (Vernon) Heintz, Crown Point, IN, Louise (Harvey) Vandersee, Crown Point, IN, Eleanor (John Valentine) Weinhardt, Lafayette, IN, Bertha (called Betty) (Ralph) Bertsch, Greenwood, IN, Esther Bauer, South Bend and Fairmount, IN
After graduating from Purdue University in 1939, Jane taught at New Carlisle High School and then at John Adams High School in South Bend, Indiana until 1983. She taught Physical Education and sometimes American History and English. She coached the cheerleaders. She remained happily single. In 1983 she moved to Fairmount, IN, where she cared for her sister Elsie, Elsie's husband Butch (Joe Haindl) and her sister Esther for the rest of their lives. Jane traveled widely from 1939 through the 1990s. She was a faithful member of St Paul's Lutheran Church in South Bend. Jane loved mushroom hunting, baking, Purdue, South Bend, Fairmount, and her 19 nieces and nephews:
She is survived by nieces and nephews: Claudia (Rosalie) Pfeil (Anton) Pyzyna, Chicago, Professor Herbert Walberg II, Chicago, George Heintz, Esq., Crown Point, Indiana, Barbara (Larry) Foster, Portland, Oregon, Steven Bertsch, Indianapolis, John Bertsch, Greenfield, Indiana, Joanna Bertsch (Jim) Sell, Avon, Indiana, Patricia (Alex Meier) Bertsch, Cincinnati, Jim (Pat) Lommel, Dexter, Michigan, Carol (Jack) Dunlavey, Clarksville, Maryland, Jane (Arthur Solomon) Lommel, Gardnerville, Nevada, John (Robin) Lommel, Michigan, Laurie (Kevin Schweder) Lommel, Andrea Lommel Love, Shorewood, Illinois, Larry Bauer, Lafayette, Indiana, Marion Bauer, Lafayette, Indiana, Glenda Bauer, Lafayette, Indiana, William (Sandra) Weinhardt, Bluffton, Indiana. Another nephew, Professor Charles Vandersee of Virginia is deceased.
Funeral service will be at the Armes-Hunt Funeral Home, 415 S. Main Street, Fairmount, IN, with Lois Watkins of Back Creek Friends Meeting presiding, Mattie Sellers organist. Funeral Service is Tuesday, July 14, 2009 at 1:00 PM Calling hours from 11-1 before the service. After cremation, interment will be in the Bauer family plot in Rest Haven Cemetery in Lafayette, Indiana at a later date. Memorials could be made to Family Hospice and Palliative Care of Berne, Indiana, http://www.fhpc-in.org/ or 265 West Water St, Berne, IN 46711.
02/22/2021 DEC
Click here to see Mary Jane's last Profile entry.