In Memory
Bob Wilbur VIEW PROFILE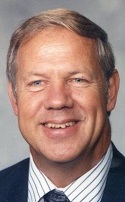 Bob Wilbur
much loved husband, father, grandfather, and great grandfather passed away on Tuesday, August 15th, 2017. He was 82.

Bob was a proud Ben Davis Giant, playing three sports, graduating in 1953. After graduating from Indiana State he started his journey as football coach in Illinois, on to Little Sacred Heart in Indianapolis (city champs, wonderful kids), Hammond Bishop Noll, South Bend Adams (beautiful times), then to his dream job of resurrecting Ben Davis football, coaching two of his sons in the process, cherishing friendships till death.

After retiring from coaching in 1983 he continued as a counselor until retirement in 1995, always supporting the Giants. He and his wife then enjoyed 21 years of being "snow birds" in Bonita Springs, Florida. Wonderful times, wonderful friends.

Bob and his devoted wife and cheerleader, Shirley, of 62 years were proud parents of four children. Dan and Connie preceded him in death. His loving sons and daughters-in-law Mike and Greta, Tim and Laura, blessed him with three beautiful granddaughters, Tara, Rachel, and Emily who referred to him as "great" grandpa. Then Gabriel and Julian made him a real great grandpa. His parents and brothers, Bill and Dan preceded him in death. Other survivors include Carolyn Wineinger, former wife of Dan, Uncle Ben Ransom, Shirley's family, Phil and Judy Long, Phyllis and Bill West, and many nieces, nephews, and cousins.

Bob's sense of humor, fairness, love of country music, flowers, Las Vegas, John Wayne, poker and diet Pepsi endeared him to many. Although football was an important part of his life, enriched by his many players, family, faith and friends were his biggest loves.

Known as "Mr. Tenderloin" at St. Joseph Catholic Church, his funeral mass will be held Monday, August 21, 2017 at 12 p.m. with viewing one hour prior at the church. Visitation will be from 2 p.m. to 7 p.m. on Sunday, August 20th at Conkle Funeral Home, Speedway. Memorials may be sent to Ben Davis H.S. Athletic Office, 1200 N. Girls School Rd., Indianapolis, IN 46214, for a tree to be planted in Bob's memory.

05/21/2021 JFC
Click here to see Bob's last Profile entry.