In Memory
Gloria E Smith (Bond) VIEW PROFILE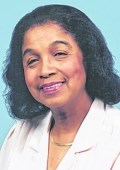 GLORIA (SMITH) BOND
April 12, 1926 - Sept. 22, 2013
SOUTH BEND - Gloria was born on April 12, 1926, in Union City, Tennessee, to Ira and Aileen Smith. She departed this life on Sunday, Sept. 22, 2013, at the age of 87 years.
She attended and graduated from Union City High School. She attended Tennessee State University in Nashville, Tennessee, graduating with a degree in English.
Her family moved to South Bend, Indiana, in 1945. She was married to the late Huddie Yale Crider. This union was blessed with four children. The late Carmen and three surviving children, Floyd, Maria (Halehma) and Norman Crider. She later married the love of her life, the late Joseph "Buddy" Bond, also of South Bend. Buddy and Gloria were united in marriage on Aug. 10, 1954, in Washington, D.C., and enjoyed 40 years together.
Gloria worked with the U.S. Government in a variety of positions and traveled with her family wherever the Army stationed them. The children grew up mainly on Chicago's South Side while Buddy was assigned to Fifth Army Headquarters. Gloria received a Master's degree in Library Science while in Chicago, and saw her children receive multiple college degrees. Later, after Buddy's retirement from the Army, the family moved back to South Bend in 1969.
She taught Computer Science and Business at John Adams High School until her retirement.
Gloria inspired the students and youngsters she encountered. She didn't just have an impression, she had an impact. All of her children are who we are because of her nature and nurturing. She extended this inspiration to friends, her classes, neighbors and others who were blessed by her influence. Gloria was also deeply involved in her sorority, Alpha Kappa Alpha. She was a graduate advisor and a regional director attending Boules and participating in national activities. A lifelong member Soror Bond published the first Who's Who in the Central Region; chartered the first AKA sorority chapter on a military installation; established the graduate advisors council; established two regional awards in honor of former Regional Directors; established the most graduate chapters in the region; and had the highest percentage of undergraduates transferring to graduate chapter. She also held national positions and regional position for the sorority. She now joins those who are Ivies Beyond the Wall.
Gloria leaves behind two sons, Floyd (Cheryl) of San Angelo, Texas, and Norm (Yolanda) of Marietta, Georgia; one daughter, Halehma (Samad) Naseer of Houston, Texas; a special cousin, Trousdale (James) Parker of Nashville, Tennessee; 8 grandsons, 4 granddaughters and a host of great-grandchildren; cousins, family, friends and "adopted" folks from wherever she lived over the years. Special mention to our brother David Crider and family for love, support and encouragement toward us and our sister Carmen. We love you.
The family would like to thank the doctors and staff at Sugarland of Houston, Texas, the staff of the Clark-O'Neal Funeral Home, and the Pastor and Congregation of the Greater St. John Missionary Baptist Church, both of South Bend, Indiana. We would also like to express our appreciation to all of those who offered prayers and support during our bereavement. Special thanks to our sister Halehma and family who provided family care during these last years, and our brother Norman who handled all administrative actions from the beginning of this part of the journey.
Funeral services will be held on Saturday, September 28, 2013, in Greater St. John Missionary Baptist Church, 101 N. Adams Street, South Bend. Visitation will begin at 11:00 a.m. and service at 12 noon. Entombment will follow at Highland Cemetery. Visit www.clarkoneal.com to sign her guestbook. Clark-O'Neal Funeral Home has been entrusted with arrangements.
Published by South Bend Tribune from Sep. 25 to Sep. 26, 2013.
11/29/2022 EJS
Click here to see Gloria E's last Profile entry.