In Memory
Michael P Faulkner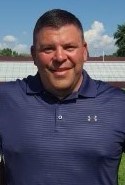 MICHAEL P. FAULKNER
Afamily and community are forever changed with the passing of Michael Patrick Faulkner. With his loving family by his side, Mike, 53, passed away on Sunday, September 25, 2022. Mike was born in Mishawaka, IN, on May 15, 1969, to Paul D. & Mary Ann (Moore) Faulkner.
Mike, aka, "Beef" was well-known throughout the area, and was a stronghold in the Mishawaka community. He never met a stranger, and always had a smile for everyone he met. Mike was a gifted athlete, excelling in wrestling and football, but wrestling was his passion.
Mike began his love of wrestling in 1978 in grade school continuing through college. He was a 1987 graduate of Mishawaka High School where he was a 2x IHSAA State Finalist and runner-up his senior year in the Heavy Weight Division. In the summer of 1987, via International Sports Exchange, Mike traveled to South Korea, Hong Kong, and China to compete with the international wrestlers, representing the United States of America with pride. That same summer, Mike became the AAU National Champion in the 192 pound weight class, competing against many great wrestlers. That same year he was awarded the Key to the City of Mishawaka, and on July 30th it was declared Michael P. Faulkner Day by the late mayor, Robert Beutter. Mike earned a degree in Management Recreational Leadership from Ferris State University, Big Rapids, MI, and was a 4x All-American Heavyweight Wrestler. He was the head wrestling coach at John Adam's High School from 1995-1998. In 2001 Mike was inducted into the Mishawaka High School Hall of Fame as one of Mishawaka High School's elite wrestlers. In 2003 he was inducted into the Indiana Wrestling Hall of Fame. He was a 25 year IHSAA wrestling official, officiating 6 state finals, and one of the few to take part in the IHSAA State Finals as a wrestler, coach and official. In 2012, Mike was awarded The Outstanding Wrestling Officials Award, an honor only bestowed upon the best of the best.
After graduating from Ferris State University, Mike began his career with the City of Mishawaka Parks and Recreation Department, and continued his career as Park Superintendent from 1997-2011. After leaving the Mishawaka Parks and Recreation Department, Mike started working for the School City of Mishawaka as Assistant Athletic Director from 2011-2016, then transitioning to the Director of Operations for the School City of Mishawaka from 2016-2022.
He was bar owner/operator of "Roc-N-Mikes" from 1999-2002 with his best friend, Rocco Zappia.
On April 29, 1995, he married Monique M. Mark, who survives, along with their sons, M. Austin Faulkner, and Alex M. Faulkner; their nephew, Larry Mark, and niece, Angel Mark, who Mike and Monique have raised for the past 8 years. Also surviving is his loving mother, Mary Ann (Moore) Faulkner; brothers, P. David (Tracy) Faulkner and Thomas Faulkner; and sister, Anne (Paul) Robinson, along with his many nieces and nephews, and extended family, whom he loved dearly. He is preceded in death by his father, Paul D. Faulkner.
Mike's favorite past time was spending time with his family and the many friends he was blessed and fortunate to have. He looked forward to fishing at the family cottage in Canada with his boys, and his good friend, Steve McClain, and his brothers, David and Tom. He enjoyed working in his yard, and took great pride in the Koi Pond that he built. One of his greatest gifts was picking up the hobby, and learning how to play, the guitar in his late 30's, with the help of his good friend, Dave Thomas.
Mike's greatest love was his family and friends, especially his wife, Monique and 2 sons, Austin and Alex whom he was so very proud of. He loved watching his sons compete in football and wrestling which brought him more joy than anything life had to offer. He was grateful to have a close-knit family and blessed with the best parents, brothers and sister any person could ever have.
The family will receive friends on Thursday, September 29, 2022, from 2:00 pm-8:00 pm at Hahn Funeral Home located at 505 West 8th Street Mishawaka, IN 46544. Then again, on Friday from 8:00 am to 9:30 am at Hahn Funeral Home. A Mass of Christian Burial will be held at 10:00 am at St. Monica Catholic Church, 222 W. Mishawaka Ave, Mishawaka, IN 46545. Mike will be laid to rest in Fairview Cemetery in Mishawaka.
Memorial contributions can be made in Mike's name to Center for Hospice Care, 501 Comfort Place, Mishawaka, IN 46545 or American Cancer Society. #BEEFSTRONG
To leave an online condolence or to share a memory, please visit www.hahnfuneralhomes.com or Hahn Funeral Home
Published by Hahn Funeral Home on Sep. 27, 2022.
12/03/2022 EJS