In Memory
Ann Marie Swanson (Dean) VIEW PROFILE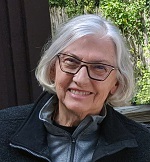 Ann Marie Dean
Nov. 30, 1946 - Dec. 10, 2022
CASSOPOLIS, MI - Ann Swanson Dean, age 76, passed away quietly in her home in Cassopolis, Michigan on December 10, 2022. She was born on November 30, 1946 in South Bend, Indiana, the daughter of Cecelia Swanson and Berger H. Swanson. She is survived by husband Frederick K. Dean, MD, children Emily Dean Kim (Steve), grandchild, Ted Dean Kim, brother Kenneth J. Swanson, extended family children Frederick D. Dean and Julie Dean Parfrey (Richard), grandchildren, Jane E. Dean, Thomas F. Dean, Linus M. Dean, Edward J. Dean, Brooke J. Gonzalez (David), Joelle M. McCauley (John), Grant D. Parfrey, great-grandchild Calvin W. Gonzalez, and brother-in-law and sister-in-law Robert H. Dean, and Barbara D. Vallaly, and their children.
Ann was raised on College Street in South Bend, where she attended Muessel Elementary School and South Bend Central High School, graduating in 1965. In school she participated in underwater ballet. On Sundays she attended Gloria Dei Lutheran Church where she celebrated her Swedish-American heritage. She continued her education at Ball StateUniversity and graduated in 1969 with a Bachelor of Science in Education. While at Ball State she was a member of the Alpha Chi Omega sorority, and she remained active in her sorority throughout her life. After college she returned to South Bend and taught for seven years at Adams High School. During this time she continued her education and obtained a Master of Science degree in Teaching from Indiana University. Believing in charitable work, Ann volunteered as a member of the Junior League of South Bend and was a charter member of the Northern Indiana Center for History.
In 1977, Ann took time off from her career to raise her daughter Emily. When Emily turned four, Ann returned to the workforce, first going to Memorial Hospital and later to Crowe Chizek, where she worked in employee recruitment.
Education was always important to Ann, and she was the first in her family to graduate from college. This prompted her to join the Scholarship Foundation of South Bend where she hosted the College Fair and served as president. She was a member and later president of the Woman's Literary Club of South Bend and a member of the Antiquarian Society of St. Joseph Valley. She served as a director for the University of Notre Dame's Friends of the Snite Museum of Art.
Ann always enjoyed entertaining. Over the years she hosted a variety of functions at both her home in Granger and at Diamond Lake. Christmas's were a special time. She loved the holiday decorating and hosting friends and family. She had a tradition of providing new pajamas every year for her family members as they arrived for Christmas. Summers at Diamond Lake were a special time, filled with entertaining her family on weekends and activities at the Diamond Lake Yacht Club. Women's kayaking, playing bridge, and helping with biking and sailing events were activities she enjoyed. Ann's enthusiasm and willingness to participate will be sorely missed.
Memorial services will be held at 1:00 p.m. on Monday, December 19, 2022 at Palmer FuneralHome - Welsheimer North Chapel, 17033 Cleveland Road, South Bend, IN. Friends may visit with the family beginning at 11:30 a.m. until the time of the service at the funeral home.
In lieu of flowers, donations may be made to the Scholarship Foundation of St. Joseph County, 3515 N. Main Street, Mishawaka, IN 46545, the Fred and Ann Dean Scholarship at IUSB, P.O. Box 7111, South Bend, IN, 46634, or the charity of one's choice.
Online condolences may be left for the family at www.palmerfuneralhomes. com.
12/15/2022 DEC
Click here to see Ann Marie's last Profile entry.