In Memory
Ruth Duffey (Weir) VIEW PROFILE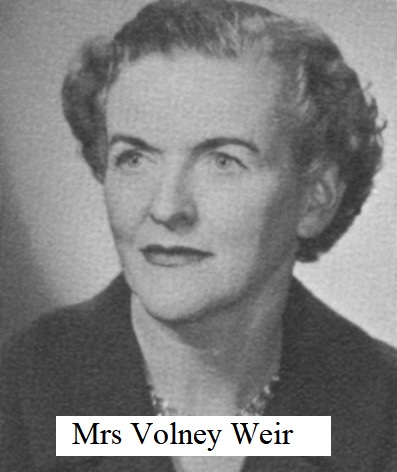 RUTH (DUFFEY) WEIR
Ruth Duffey Weir, Died on October 7, 2003 in Indianapolis, IN. Born on July 17, 1910 in Wabash County, IN to Mr. & Mrs. Isaiah Duffey, she was married there in 1934 to Volney C. Weir, who died in 1995. She graduated from Manchester College and Indiana University, Bloomington, where she earned AB and MA Degrees in English, respectively.
Over a period of 20 years until she retired in 1979, Mrs. Weir taught English at Indiana University and John Adams High School in South Bend.
Among the several generations of students who remembered her fondly was John Brademas, a Rhodes Scholar, Congressman from South Bend, and President of New York University. Mrs. Weir was a member and former president of the South Bend School Men's Wives Club, the South Bend-Mishawaka Pan Hellenic Association, and the American Association of University Women.
She had also been an active member of the Delta Zeta Sorority; the Christ Child Society; the St. Joseph's Medical Center Auxiliary; Chapter N. PEO; Psi Iota Xi; the Schuyler Colfax Chapter of the DAR; the Colonial Dames of the Seventeenth Century, Pilgrim Edward Fuller Chapter; the Coterie Club of South Bend; the Northern Indiana Historical Society; the South Bend Area Genealogical Society; the Friends of the Library of the University of Notre Dame; and the St. Joseph County Retired Teachers Association.
Survivors include two children, James D. Weir of Cullowhee, NC; and Margaret Weir Smith of Indianapolis, six grandchildren, a sister-in-law, Mrs. John B. Duffey of Wabash, IN; and five nieces and nephews.
A calling will be at Welsheimer Funeral Home in South Bend, IN from 2:00 to 6:00 p.m. on Sunday, October 12, 2003, with a prayer service at 4 p.m. There will be a Mass of the Resurrection in Sacred Heart Church at Notre Dame at 9:30 a.m on Monday, October 13, 2003. Memorial contributions may be made to the South Bend-Mishawaka Pan Hellenic Scholarship Fund or Sacred Heart Church at Notre Dame. Local arrangements are being handled by Leppert Mortuary, Nora Chapel.
Published by The Indianapolis Star on Oct. 9, 2003.
12/28/2022 EJS
Click here to see Ruth's last Profile entry.